Research & Innovation
Axplora Aims to Make Pharmaceutical Supply Chains More Stable
New CDMO, Formed from PharmaZell and Novasep, Specializes in the Development of Complex API Production Processes
In early April 2022, pharmaceutical contract development and manufacturing organizations (CDMOs) PharmaZell and Novasep announced the completion of their merger. The company formed by the merger has been operating under the name Axplora since last fall and specializes in the development and scaling of complex production processes for drugs. Sylke Hassel, who was previously CEO of PharmaZell, heads the merged company, which is headquartered in Raubling near Munich. CHEManager spoke with her about her strategy and goals in a market environment characterized by various trends.
CHEManager: What was the intention of bringing together the expertise and capabilities of Novasep and PharmaZell incl. Farmabios?
Sylke Hassel: Bringing together the three companies made us a global partner for pharmaceutical and biotech companies, creating a leading CDMO and API manufacturer. We are one of the few players in the space that supports the entire lifecycle of pharmaceuticals. Our combined strengths enable us to manufacture the active ingredients that provide existing and new treatments for patients. Within Axplora, the combined entity, we now have a broader portfolio of sites and technologies that can be leveraged for both CDMO and product businesses.
Bringing together different cultures is not always easy. How do you approach the integration and where do you see the common DNA of Axplora?
S. Hassel: Novasep, PharmaZell and Farmabios share a complementary culture: firstly, through Axplora's technological solution-based mindset, the company is powered by an entrepreneurial spirit to innovate and develop new life-changing technologies.
Secondly, we share a common strong customer-centric approach: the company is not focused on "science for the sake of science", but on a broader purpose to deliver medicines to patients better, faster, more safely, more reliably and more sustainably. And finally, a common passion to meet our commitments by exceeding customer service expectations and the belief that by working together we can always find a way to improve, benefitting clients and fulfilling patients' needs.
 
Where are the core competencies of the individual companies and how do they complement each other? What synergies are there?
S. Hassel: Our combined entity has a broader portfolio of sites and technologies that can be leveraged in a pragmatic way for both CDMO and product businesses to add value to our customers.
Axplora combines the CDMO business of Novasep with the product businesses of PharmaZell and Farmabios. This combination puts us in a unique position to support customers along the entire lifecycle of pharmaceutical development and manufacturing. In addition to supporting CDMO customers with the development, scale-up and commercial manufacturing of drug substances, we are now well-placed to ensure that their products become more cost competitive after patent expiry.
As a result of the merger, our CDMO business now also has access to additional sites and technologies. For example, we have integrated the steroid and HPAPI capabilities of our Gropello site into our CDMO offering. Similarly, we are leveraging our Indian sites for the backward integration of CDMO projects to increase cost competitiveness and security of supply.
Which areas of the pharmaceutical value chain can you cover and how is Axplora positioned in these segments?
S. Hassel: We bring a unique end-to-end opportunity to the market. Axplora leverages technology and knowledge to deliver a full lifecycle from clinical to generics with a customer-centric approach.
We have a strong API network with 9 manufacturing sites (including 2 in India) over 3 continents which enables us to be more competitive (see below). They all have been successfully inspected by the US-FDA and European authorities.
We pay great attention to our CDMO business, supporting pharmaceutical & biopharmaceutical innovators with tailored services including process development, clinical & commercial manufacturing of APIs. And thanks to our portfolio of more than 12 differentiating technologies, including hazardous chemistry, antibody drug conjugates (ADCs), chromatography, steroids and highly potent APIs (HPAPIs), we can deliver complex APIs to our customers.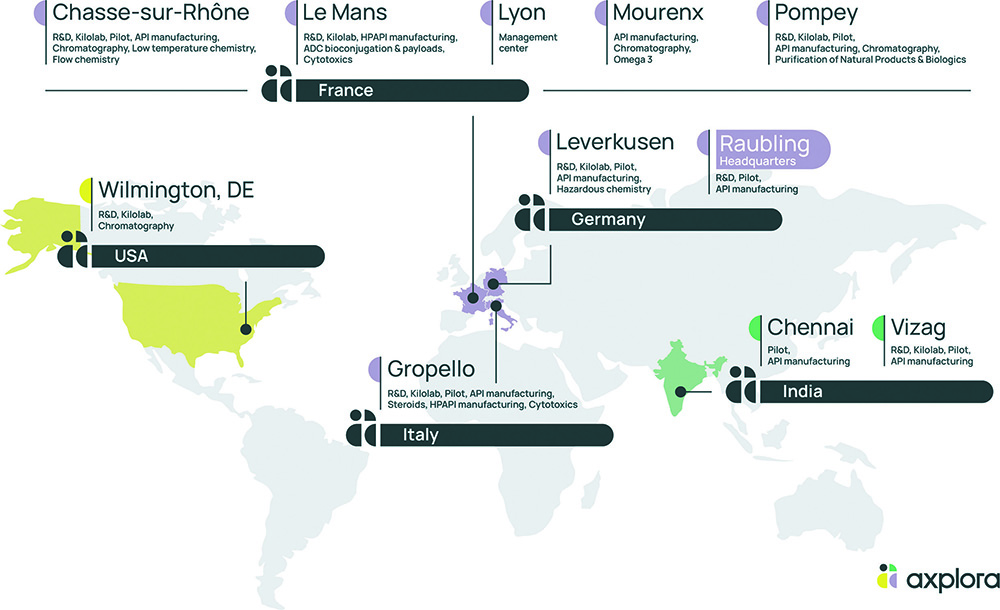 Do you plan to add specific capabilities or capacities to your portfolio to support demand growth?
S. Hassel: As a company driven by an innovation mindset, we are constantly on the lookout for new elements in the value chain that could transform the way pharmaceutical players bring their drugs to market. For example, very recently, we obtained an enhanced Pharmaceutical Establishment license from the authorities to add drug product testing services to our ADC offering.
We are also continuously adding capacities to support growing customer demand. Ongoing expansions include the construction of a new multipurpose workshop in Mourenx and capacity increases for commercial ADC payloads in Le Mans. We have also recently completed the construction of a new steroids facility in Gropello and increased our capacity in Vishakapatnam (Vizag).
In terms of customer needs, where do you see market trends that you want to serve and capitalize on?
S. Hassel: Our capabilities, assets and current investments are targeted to follow the needs and expectations of the pharma industry for increasingly complex, lower volume and more potent APIs. For example, in the fast-growing oncology sector, we have responded to increased demand for targeted therapies such as ADCs by increasing capacity for HPAPIs in our network and expanding our services to include drug product release testing for ADCs.
Recent events have highlighted the vulnerability of pharmaceutical supply chains, reinforcing the need to anticipate and mitigate supply risks, to ensure the continuity of services to our pharmaceutical customers and ultimately to patients. One solution is to offer the possibility of internalizing the manufacture of starting materials & intermediates in our Indian sites, reducing the number of players involved and reinforcing business continuity.
Our research and development teams are also working earlier with customers to integrate new technologies and accelerate delivery. For instance, we are implementing flow chemistry at a technical scale in a pragmatic manner for faster, increased output.
We are also investing to reduce our carbon footprint and our environmental impact, which have become major requirements for our pharmaceutical customers.
"Recent events have highlighted the vulnerability of pharmaceutical supply chains..."
Currently, there are supply shortages of precursors and active ingredients. Axplora has a strong presence in Europe and also operates facilities in the US and India. Do you see a trend toward reshoring and can you benefit from it?
S. Hassel: Reshoring is indeed a trend we do see in some areas, but this is largely driven by country-specific legislation e.g. the Inflation Reduction Act in the US rewards companies that produce locally. We are well-placed with a presence on 3 continents to serve most of the world's pharmaceutical companies. Today, our global footprint – composed of 9 manufacturing sites – serves our customers without major disruptions. This does not mean that we don't see headwinds in the future, just that we are able to better prepare thanks to our scale following the merger.
Do you plan to expand your geographic footprint by investing in new or existing facilities?
S. Hassel: Today, we are present on three continents and multiple geographies. We already have a large presence in the US where we plan on increasing our manufacturing capabilities, supplementing our commercial footprint and making sure we strengthen the relationship with our customers. We continue to expand our facilities and increase our service in multiple fields including HPAPIs, steroids, ADCs and cholic acid derivatives.
Do you think the consolidation of the CDMO market will continue? What are the driving forces in this consolidation phase?
S. Hassel: Because the CDMO business is driven by customers' needs, the consolidation of the market will indeed continue. Axplora is a major actor in this attractive space for three main reasons: First, thanks to the scale we have now reached. In addition, we make sure to always outperform what we provide to our customers and that we address their needs in a broader way. And finally, we are always on the lookout for new opportunities.
"... the consolidation of the market will indeed continue."
The topic of sustainability is increasingly making its way into the pharmaceutical value chain. What role do the various sustainability aspects play for Axplora?
S. Hassel: The topic of sustainability is crucial for Axplora and our customers. As said previously, we are investing to reduce our environmental impact. We aim to achieve carbon neutrality and we have developed an ESG global roadmap that includes the following key initiatives:
We are developing a waste and water reduction plan that will be finalized in 2023, in the context of the 2nd wave of taxonomy regulations.
We plan on extending the reporting of scope 3 emissions to key third parties by 2025.
We are EcoVadis certified in many sites and have the objective to be certified in all sites.
We have already switched several sites to decarbonated energy supply contracts, and we are expanding this where possible.
We will install solar panels on several sites in 2023 and 2024, to cover a significant portion of our needs.