Strategy & Management
Expert Statement: Felix Thalmann, Büfa Group
Mergers & Acquisitions Are an Integral Strategic Component
In the drive to reach growth objectives, or to maintain and enhance "critical mass", mergers & acquisitions (M&A) has been a theme for the chemical distribution industry for years. The industry leaders (by size and geographic reach) were all built through a series of such transactions. As the practice is further trickling down to the smaller and mid-sized company layer of the sector, and more distributors espouse external growth options, it is worthwhile to spend some time on a reflection of recent events in this context.
Although M&A activity has been slowed down to some extent by the Covid-19 pandemic, the basic drivers are still relevant. Thus, it can be expected that industry consolidation will even be accelerated by the effects of the global lockdown that has been causing a global economic crisis, disruptions in international trade, production outages, and thus stressed supply chains.
Other factors such as the digital and ecological transformation of the chemical industry and its impact on value chains, trade conflicts, or Brexit will even increase the need to enhance critical mass and establish more widespread networks – and thus build more resilient businesses.
CHEManager asked executives and industry experts to share their views on the rationale for M&A activity in chemical distribution. We proposed to discuss the following aspects:
Have the key drivers for mergers & acquisitions in the chemical distribution industry changed due to the Corona crisis?
Will industry consolidation and thus M&A activity continue or even speed up after the Corona crisis?
Do you want to play an active role in the industry consolidation, and if so, what is your strategy?
Felix Thalmann: The Corona pandemic is having an impact on all areas of our lives. Many topics such as sustainability, digitalization, innovations and also the topic of consolidation will have an even higher priority after the global crisis than before.
Consolidation will pick up speed because economies of scale and good local as well as global networking will become increasingly important. Irrespective of the industry, a major consolidation push will set in; global players will partially take over niche players. This is because the pandemic has exposed the weaknesses of companies and accelerated negative developments in some businesses. Particularly where the consequences of the corona crisis are not yet fully foreseeable, such as in smaller or medium-sized companies, the challenging economic situation will lead to a corporate change.
"A company must remain adaptable —
this also means investing and disinvesting
in other companies."

World trade will not decline after the pandemic, but it will change permanently. Global supply chains are fragile, so they need to be constantly improved and made more secure. Alternative options and routes, such as the Silk Road, need to be built. Basically, companies will adapt their supply strategies in order to position themselves for the future. A company must remain adaptable — this also means investing and disinvesting in other companies. There will also be some new companies that will master new challenges with innovation and flexibility. Presumably, the agile start-up scene will also emerge stronger from the pandemic.
As a traditional and family-owned company, Büfa recognized early on that it would have to be flexible in meeting the faster pace of corporate change. With our three business divisions operating in the chemicals, cleaning and composites sectors, we are broadly positioned. In addition, we invest in innovative ideas and companies and we actively participate in consolidation processes in various areas. Partnering with other market players will also become increasingly interesting in order to position ourselves in a versatile way, to combine forces, utilize synergies and ultimately to be better able to absorb crises.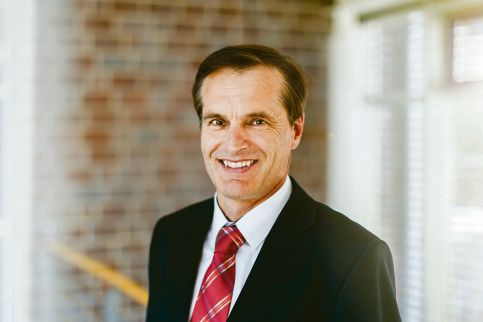 Downloads